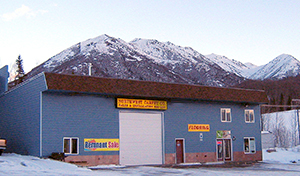 Our Beginnings
We started out in 1998 as a small general contracting firm in Eagle River performing interior construction, renovations and flooring. In 2000 we added large-scale commercial flooring installations for private and public sector projects such as the General Services Adminsistration, State of Alaska, and the Municipality of Anchorage. Solid management and ethical contracting soon led to solid reputation and a long list of successful projects.
Providing a local residential retail service
We have added an expanded showroom to service the local Chugiak & Eagle River area. Feel free to come in and look at our showroom. We're proud of it! But first, there is something you should know.
We have something unique.
You don't want missed appointments, "unforeseen" delays, or a skimpy install. You want someone who is available, who can do the job on schedule, and who has the tools, training and experience to do the job right. At Northwest Carpet Company, your flooring installation will be performed by our own staff of dedicated employee installers. Why? Because that is the ONLY way we can ensure that your install will be done right.

Where other stores fail is where we shine.
The owners of Northwest Carpet Company have a background in actual field work and an eye for detail that transmits to a seamless experience from sale to install, with an emphasis on correct technical installation practices. That means that you can be comfortable that we are recommending the right product for the right application. Hence, our slogan of "The Right Direction in Flooring."
And we're proud of it…
From our beginnings as installation-only contractor our commitment is to install it right, the first time. Now as a full-service authorized dealer those practices remain the backbone of our commitment to our clients.
Thank you for taking the time to check out Northwest Carpet Company. We hope you enjoy working with us.
Sincerely, Scott Sagraves
Quality and Service
cost effective from beginning to end
flexible scheduling while meeting deadlines
top notch, professional installers
attention to sub floor conditions and floor prep
premium adhesives and materials
modern efficient equipment
installation to manufactures specifications
job site cleaned upon completion
final product and services exceeds expectations
Store Hours
Mon – Fri: 10am to 6pm
Sat: 11am to 4pm
Sunday: CLOSED
Serving Anchorage, Chugiak, Eagle River, Wasilla, Palmer, Settler's Bay, Fairbanks, Kenai, Homer, Valdez, Soldotna, Seward, North Pole, Houston, and Delta Junction.